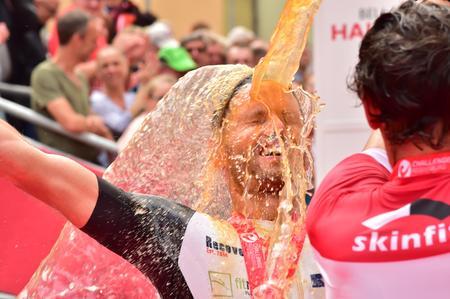 What makes you unique as an athlete?
What makes me unique as an athlete is my dedication and passion for triathlon. I take pride in practising my sport honestly and sincerely. The balance between family, work and elite-level triathlon is important for me too.
Apart from that, I have good body awareness, so I am able to work at the details, and improve just a little all the time as I strive for perfection.
What's your best performance(s)?
My greatest performances were the two successive wins at Challenge Denmark on the Iron-man distance in 2015-2016.  On both occasions I won from the front, early with the cycling. It was great to repeat an achievement, going faster the following year, and running my own race.
Which performance has influenced you the most?
Doing my first Ironman in a time of 8.34 had the biggest effect on me, after I had decided to try again, and then come so close to the target of 8.30, which I had almost thought impossible. It gave me new faith in myself. That was in Almere in 2014, and it brought me in 3rd in the ETU European Championships 
What does FUSION equipment mean to you during training and in competition?
Close collaboration with Fusion has given me an insight into how the firm works. It is reassuring to know that the partners you work with take the same approach to their products as I do to my sport. Fusion's products are uncompromising through and through, so I always have the right kit for the right purpose.
As I train and compete, I can be confident that I am wearing the best protection against the elements, and concentrate on my performance. 
Birthday: 
30 December 1982