Laidlow-Show at Ironman World Championship Nice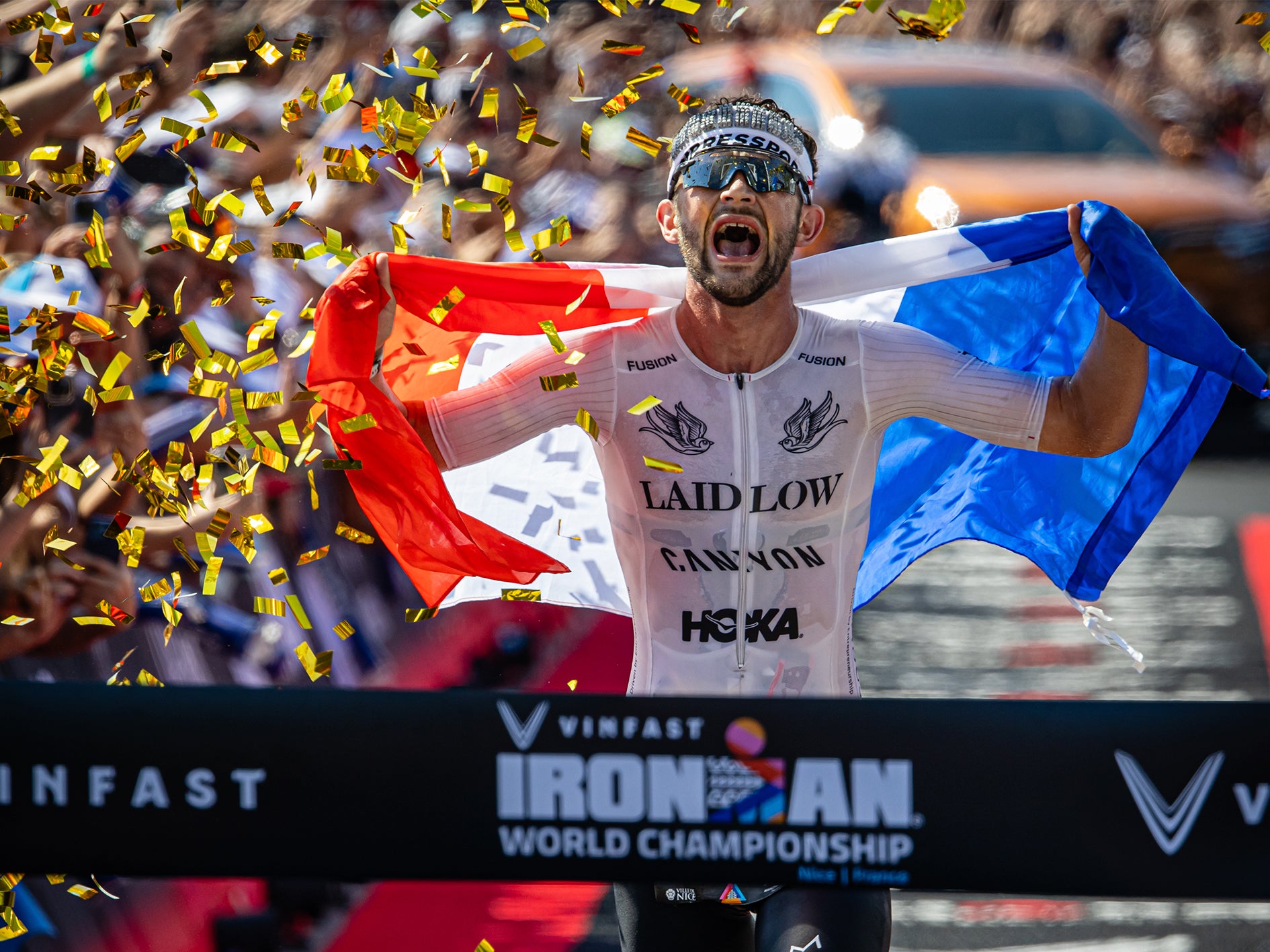 Sam Laidlow, youngest champion in history after yet another power-performance when it mattered the most!
It's still a bit of a puzzle, why nobody saw this coming. Not a single expert had Sam Laidlow as pre-race favorite, despite his 2nd-place finish in Kona last year. Injury and health-issues kept him from competing at the PTO races and (exactly like in 2022), he didn't have any major wins going into the big showdown.
Sam however, never lacked confidence in his own ability to win, and thus went straight to the front of the swim. About halfway in, Jan Frodeno decided to join the party and pushed the pace even further. In quite difficult and "choppy" conditions, the front-pack managed to drop Magnus and Patrick Lange barely able to hang on. Sam got out in 5th position, only 3 seconds behind American Matthew Marquardt.
Whether on purpose or not is difficult to say, but nonetheless Sam had a quite slow transition and was almost 1 min. back as he jumped onto his bike, with Frodeno, Mignon and Rudy Von Berg already more than 30 seconds up the road. Extra time in transition, putting on aero-calfs etc. probably wasn't a bad idea, as Sam had already closed the gap completely on the flat section about 10 km in.
Waiting for the right moment to attack, Sam was riding in second position behind youngest competitor on the day, "flyin' dutchman" Nike Heldoorn, son of triathlon legend Frank Heldoorn.
Due to the many twists and turns, knowing the course by heart was obviously key. Based in Nice, training every day and basically living on the race-couse, nobody was more familiar to it than Clement Mignon, the french prodigy who won the non-championship event in Nice a few months ago. Mignon timed his attack perfectly, and only Sam was able to respond.
On live-coverage you can see Sam Laidlow turning his head as he passes Mignon: "allons-y mon ami" (let's get going, buddy). During the first ⅓ of the 180 km bike-ride (which is also the steepest) the french duo build a 2 min 30. sec. lead over south african leight-weighter Bradley Weiss and Magnus Ditlev, who defied the laws of physics by an incredible power-to-weight performance.
Somewhere between 70-90 km, Mignon blew up pretty badly and eventually got caught by Ditlev, Von Berg and Cam Wurf. Before the long descent, Sam was leading by more than 4 min. and only lost about 10 second to Von Berg, who grew up in Nice and excels on the technical downhill-sections. During the final 20 km (almost exactly like on Queen K last year), Sam extended his lead by another 30 seconds to closest rivals, Von Berg and Magnus. 
Expected fastest runner Patrick Lange hit T2 in 7th place, 13 min. behind, but history has shown crazy comebacks before, and with Laidlow's previous muscle-tear in mind, anything could happen in the heat of "Promenade des anglais". The local crowd really cheered on the French leader, and Sam didn't show any sign of weakness in the first half of the marathon, running even splits as Magnus Ditlev in second.
Patrick Lange "only" clawed back 4 min., and with only 21 km left, the german had to switch focus on the podium, rather than the win. With an incredible sub 2.42 marathon on top of his 4.31.28 bike-ride ( race-best by 4.25 min), Sam Laidlow crossed the finish-line with a mix of ecstatic tears, disbelief and joy.
His first words was "Nous l'avons fait..."
In English: "We did it!"
Congratulations Sam Laidlow on an impressive win and for being a great inspiration for every professional athlete in the sport - dare to dream and never doubt yourself, even when others do!